Go Back
Academics
Login and Follow EngineersHub to receive SMS Notifications
Share on Whatsapp
MIVO TECHON - A 2 day session on Web Application Development, Web Services, Google Adsense and Startup Ecosystem By EngineersHub and Teegala Krishna Reddy Engineering College
Hurray !!!
An amazing opportunity for Students to Learn, Learners to code, Coders to develop and Developers to Propel.
EngineersHub presents you MIVO TECHON, 2 days session on Web Application Development, Web Services, Google Adsense and Startup Ecosystem on account of ZIGNAASA.
MIVO TECHON is scheduled on 25th and 26th September 2015 at TEEGALA KRISHNA REDDY ENGINEERING COLLEGE.
Ticket : Rs 500/- Including 2 Days Lunch
Click Here to Book your Slot Online
AGENDA IN DETAIL :
Web Application Development from scracth using PHP, MySQL, Bootstrap Framework, Jquery, HTML5, CSS3, AJAX
- Here Complete Dynamic Web application development from scratch using php, mysql as backend and bootstrap framework, jquery, html5 and css3 for frontend development with smooth transitions and Ajax for instant requests will be deployed and demo will be given. We also include Sessions concept for login, logout and other modules.
Development of Social Networking site
- Here We will show how to develop a social networking site using OXWALL framework
Introduction to Web Services for Mobile Application Development
- Here We will show how to write webservices using JSON from Database queries which will help in developing dynamic mobile applications.
Building Blogs and Making good money from Google Adsense
- Here We will show how to build a blog and install google adsense to generate money and strategy to generate more money from Google Adsense.
Tips on Making money from small web applications and modules
- Here We will show how to make money from small web applications or web modules you build.
Glimpse on Startup EcoSystem
- Here We will give a glimpse on what startup is, and how startup culture is growing and why we need to choose startup.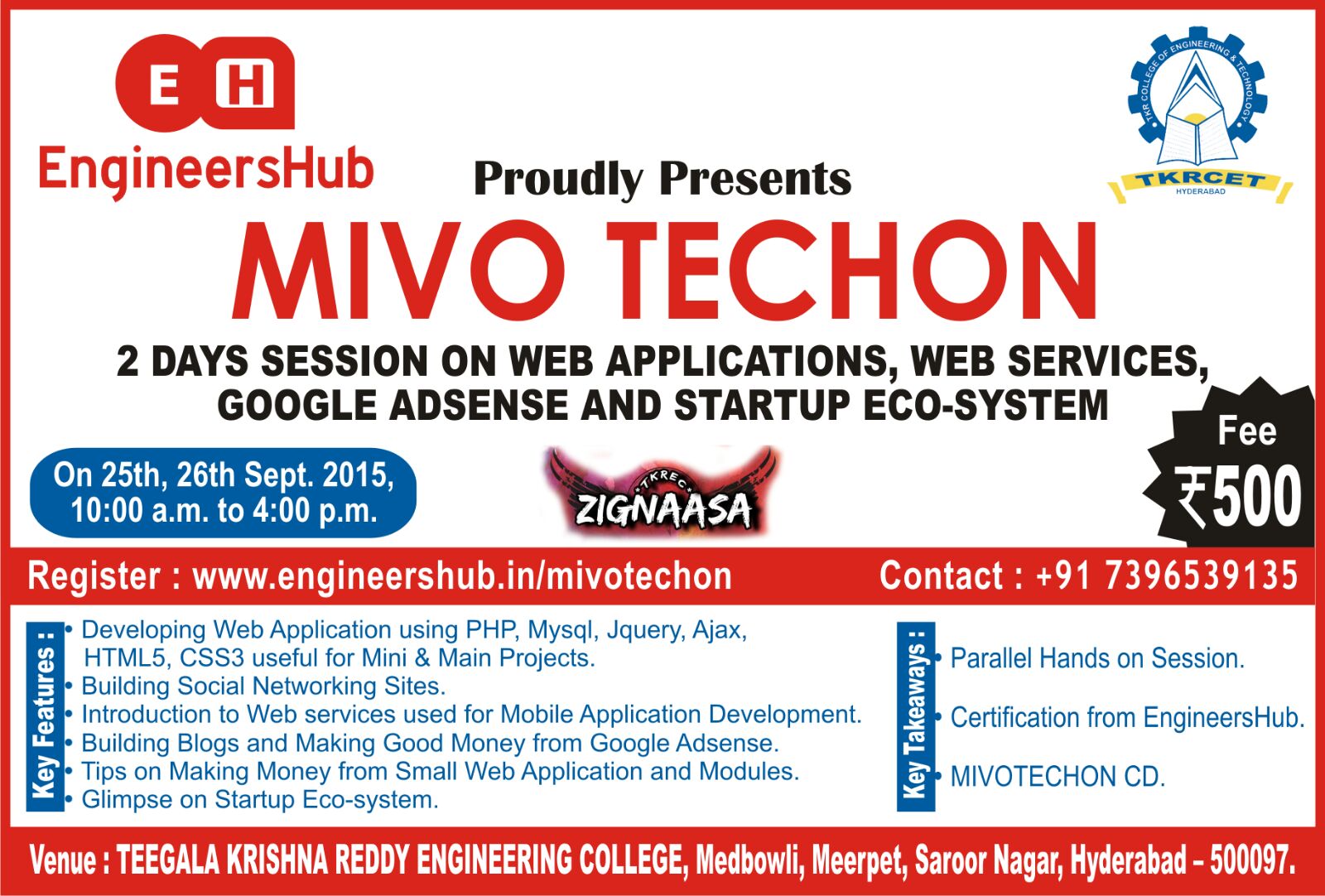 Terms and Condititons:
No Refund or cancellation of ticket.
Bring your laptops for handson session.
Food is included.
Candidates can board any TKR bus if found for transport (not guaranteed)
You can register online and offline
For Offline Registration Contact : +91 7396539135
You can Register and Book your ticket online here
x